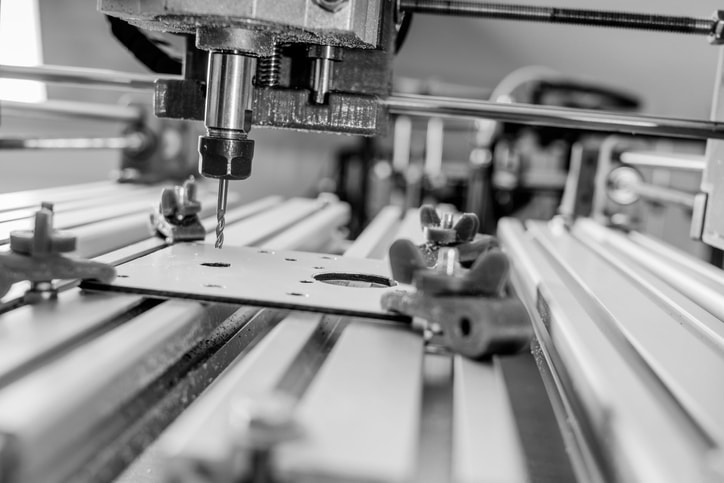 Why Outside Expertise is Needed for Metal Fabrication Marketing and Sales
Metal fabricators — from sheet metal producers and CNC machining companies to tooling and forging companies and precision parts manufacturers — are facing a wide variety of challenges today. These range from labor and material shortages to difficulties with an aging, change-resistant workforce and a lack of flexibility to pivot and support growth goals.
Historical fabrication marketing and sales practices won't produce the same results as they did before the pandemic — and even then, the clock was ticking on their effectiveness. One of the key solutions to solving many of these challenges is partnering with an outside sales and marketing firm that brings the talent, tools, and processes needed to implement change, measure performance, and make progress toward growth. Just a few reasons for this approach include:
An outside partner gives metals companies a full team ready to hit the ground running versus having to build out a team in-house and get them up to speed
Companies avoid the time and cost requirements of hiring expertise in-house, which is particularly beneficial as talent today has higher expectations and demands
Because the outside partner understands metal fabrication marketing and sales processes, the knowledge and capabilities gaps are immediately filled, accelerating time to value
Companies can avoid delays due to technology deficiencies, such as CRMs, marketing automation, and other digital tools, because the partner will have them in place
While these are valuable advantages of a metal fabrication marketing and sales partner, results speak louder than words. Here, we'll explore a few examples of metal fabrication and manufacturing companies to showcase how this approach produces significant outcomes.
1. Falso Industries
Falso Industries is a metal fabricator that provides a range of services, including rapid prototyping, sheet metal fabrication, CNC machining, 3D printing, and more. While the company has experienced a great deal of success, a stagnant forecast and high customer concentration meant it had to bring in new accounts. Unfortunately, the company lacked the infrastructure, tools, and team to bring in new opportunities.
Just as Falso and Athena began working together, the pandemic hit — leading to an influx of new business due to production of masks and hand sanitizer. Despite these challenges, Falso continued with the program. Athena implemented a front-end sales process, built a strong list of target opportunities, implemented technology and nurturing processes, and more. Our sales coordination support also uncovered new opportunities with existing customers.
The Result: Working with Athena on its metal fabrication marketing and sales program helped Falso increase brand awareness via new marketing efforts, secure 12 new accounts with potential for annual growth, and provided front-end infrastructure support to achieve sales goals.
2. Dawson Metal Company
Dawson Metal Company is a metal fabrication manufacturer that engineers close tolerance, custom metal fabrications and assemblies. With high customer concentration, stagnant prospecting, and a lack of structure in its RFQ and active sales cycle, Dawson made the decision to partner with Athena for a new approach to its metal fabrication marketing and sales efforts.
To help Dawson diversify its client base and improve its sales coordination, Athena developed a powerful front-end sales process that could generate and manage new business development opportunities and relationships. Our Relationship Acquisition and Management Process (RAMP) lessened their reliance on external sales reps for prospecting and also provided the sales support and relationship building needed to grow desired market segments.
The Result: Thanks to our new front-end structure and support, more than $600,000 was introduced into Dawson's active sales pipeline. Dawson was also able to close $419,000 in new account sales. Additionally, we improved sales productivity as well as opportunity flow and resolution throughout the sales cycle.
3. Precision Manufacturing Group
Precision Manufacturing Group (PMG) is a custom manufacturer of tight-tolerance metal components and assemblies for multiple markets. While PMG had an initiative to increase new accounts, its sales team was heavily focused on supporting existing accounts — stagnating new business development and market education. PMG partnered with Athena to help increase consistent lead flow while also creating awareness and educating the market — particularly on its beneficial P3 delivery guarantee that was designed to develop new customer relationships.
We immediately implemented our structured front-end sales process, technology, and sales support. Database segmentation, new content creation, RAMPs, email marketing, nurturing campaigns, pipeline management support, and trade show support were all utilized to differentiate PMG, identify new qualified opportunities, consistently follow up with prospects, and create a more structured approach to sales. This enabled the PMG team to spend more time on new sales opportunities that came in as a result of our execution.
The Result: Athena successfully introduced more than 65 new qualified leads into the active sales cycle, accounting for more than $250,000. We also increased awareness of PMG's competitive offer and capabilities in new markets.
What Metal Fabrication Marketing and Sales Challenges Can We Solve for You?
Whether you're looking to grow your business in new markets, expand within an existing market, expand existing customer relationships, or empower your sales team to be more productive, Athena is the partner you need to achieve success. The stories shared here are just a few of the many relationships in which we've helped sales teams grow their databases, develop a more structured approach to metal fabrication marketing and sales, and ultimately increase their revenue more reliably and consistently. You can explore more case studies here.
Ready to put our process to work for your success? Connect with us here, or schedule a private consultation at a time that works best for you!