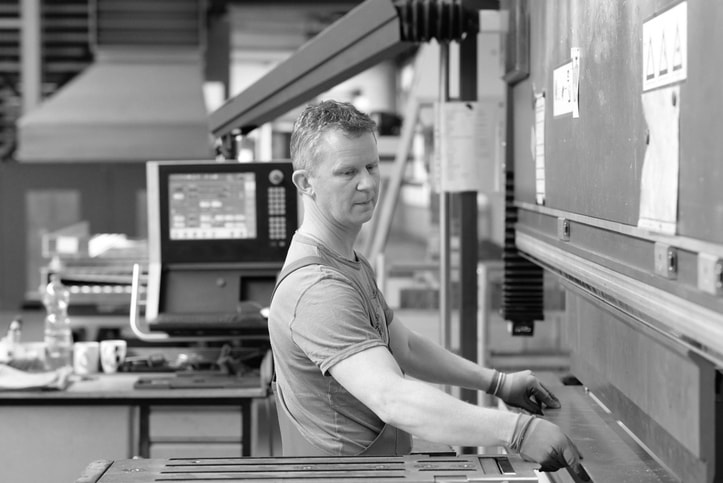 Metal Manufacturing Isn't Out of the Weeds Yet
As with many other industries, the past two years have kept companies in metal forming sales and other sub-sectors rapidly shifting their marketing and sales tactics — along with their internal processes — to adapt to changing customer preferences and to prevent excess capacity issues.
Throughout 2020, the focus was on understanding as best as possible what 'normal' would look like down the road. Then, in 2021, companies were hit with even more curveballs in the form of supply chain challenges and labor shortages — on top of increased demand. Throughout it all, metal forming sales and manufacturing professionals were having to shift from more traditional models of reaching prospects and customers to other solutions.
This added new complexities to the equation, created the need to learn new channels for outreach and measurement, and ultimately contributed to metal manufacturers accepting opportunities that weren't ideal for their businesses long-term.
Low-volume orders may have been accepted in order to fill capacity and maintain revenue, but this created production-level headaches and dramatically shrank margins. Inconsistent orders were tolerated because 'it was something,' though it only led to manufacturers having an excess inventory of materials that tied up resources needed elsewhere.
While things have certainly begun to improve in terms of supply chain, the difficulties aren't expected to lift anytime soon. Many experts believe supply chain challenges will continue into mid-2022, with several key industries like automotive seeing even longer timelines. Manufacturing employment trends are improving as well, but Generation Z is smaller than the larger Millennial workforce — creating future worries for manufacturers.
Now is the time for metal forming sales professionals to look to new integrated solutions for improving their lead generation efforts. But manufacturers need to put some guardrails up first to ensure they don't find themselves in a similar situation down the road.
Two Lines of Defense for Metal Forming Sales Growth
Define Your Ideal Buyer and Create a Persona You Can Reference
Over the past two years, you may have begun a relationship or accepted orders from buyers that you knew weren't the right ones for your business. Maybe they only needed a one-off order. Maybe the product they needed itself didn't have a significant margin. Maybe they were only shopping with you as a stop-gap until another supplier was more available. Whatever the situation, it was clear that this buyer wasn't where you should be focusing.
With things beginning to steadily improve, metal forming sales professionals have more freedom now to focus on who the right buyer is for their organization. Of course, this shouldn't be defined by sales alone. It should be cross-departmental, bringing in perspectives from leadership, procurement, marketing, production, and other related departments as needed to ensure you have the clearest, most well-defined understanding of who the right buyer is as possible.
A caveat: There will always be opportunities to test new markets or a monkey's paw for new relationships. However, consider balancing these opportunities with who the right buyer is to ensure you don't find yourself in a difficult position down the road.
With this understanding, you should also create an established representation of who this ideal buyer is — a buyer persona. You can have one or more of these, but make sure you don't create too many — remember that the goal is to narrow the focus on who the ideal customer is for your organization. Creating too many possibilities could allow low-value opportunities to creep into your sales funnel.
Go deeper: Learn more about creating the ideal buyer persona and how to put it to use.
Refine Your Focus with Sales Qualifying Questions
Once you have your persona or personas built out, it'll be important to dig a bit deeper and refine your focus even further. Two opportunities might come in that match your persona definition, but they might have needs in that moment that disqualify them from being a truly ideal customer. With sales qualifying questions, you can focus on the kinds of opportunities that are the most profitable for your business — and cause the fewest headaches. You know what type of business is in your wheelhouse — why accept opportunities that will cause unnecessary complexity while shrinking your margins?
Sales qualifying questions can be defined and answered as part of your buyer persona exercise. Examples include identifying preferred material types, order volumes, program timeframes, and more. When an opportunity comes in that fits the buyer persona (the right type of organization), you can then evaluate them against the defined answers to your sales qualifying questions (the right type of opportunity). Of course, you'll need to ask the prospect these questions to truly understand what they need and to ensure they either qualify or are disqualified.
As you work with a prospect through qualification, know that you can and should say 'no' to an opportunity that doesn't check the right boxes. You may be willing to make some concessions here and there, but be cautious in doing so — consider the long-term ramifications of accepting an opportunity with a slightly lower order volume on an infrequent basis if the margins are still higher. That might be great now, but what does that mean for inventory, production, and lifetime value goals?
Also, it's important to revisit these questions — and the buyer persona(s) — as your organization continues to grow and change strategically. Consider evaluating your sales qualifying questions on a quarterly or semi-annual basis to ensure you're asking questions that are in line with what is moving the needle for the business and where it wants to go.
Go deeper: Download our free ebook on setting your business up for sales success.
Get Expert Assistance with Managing This Front-End Process in Metal Forming Sales
At Athena SWC, we partner with metal formers and multiple other types of metal manufacturers to help them implement a more structured front-end approach to sales. With our holistic approach to inbound and outbound marketing and our streamlined sales qualification process, we'll take care of identifying, growing, and nurturing prospects through your sales funnel — engaging with them consistently until they're either ready to move forward in the process or achieve some other resolution. The result is greater productivity for your sales team, more qualified sales opportunities, and higher close rates for your business.
Connect with us today to learn how our team can streamline your sales process.