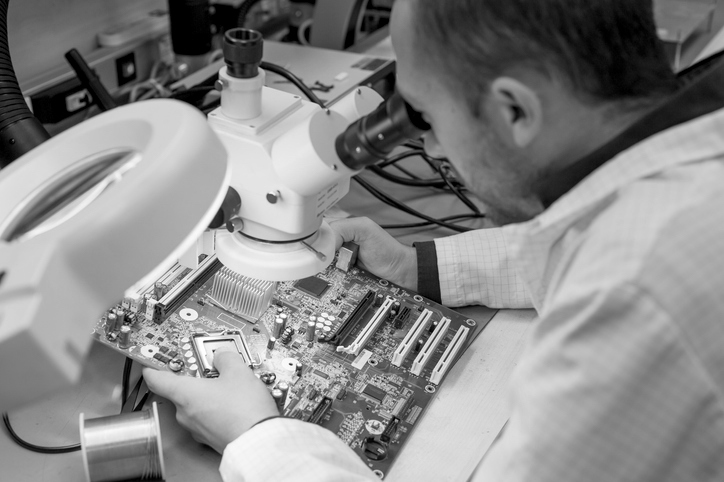 The Electronics Manufacturing Services (EMS) Industry is More Competitive Than Ever
With a variety of organizations offering readily available services and products (including overseas manufacturers competing on price), it can be difficult for companies based in the U.S. to keep up. This becomes even more challenging when companies lack the structure, resources, or time to try a new approach. And it's these instances when it becomes necessary to work with a proven electronics marketing agency.
While many companies will be tempted to build out or expand sales and marketing teams in-house, this comes with costs that negatively impact the business in more ways than one. Those that are seeking faster progress toward set goals will be better suited in hiring an outsourced electronics marketing agency partner to take the reins and begin executing quickly, rather than investing time and resources in standing up a team internally.
Here, we'll explore two real-world examples of EMS companies that made that exact decision — and reaped the rewards faster than by keeping it in-house.
AccuSpec: Success Requires Structure
AccuSpec Electronics — now 4FRONT Solutions — is a full-service provider of EMS services for the medical device and industrial control industries, specifically focusing on printed circuit boards (PCBs/PCBAs) and wire harness assemblies. As part of a new strategy, AccuSpec set a goal of achieving 30% sales growth over a three-year period — most of which would be focused on new accounts. However, the company faced a few challenges:
AccuSpec had limited internal sales resources available to support the new direction
Sales reps were focused on growing existing relationships, not creating new ones
The sales cycle was complex, lengthy, and often dealt with multiple contacts
They lacked the structure to compress sales cycles and increase rep productivity
To address this, the company decided to seek the support of an electronics marketing agency and began working with Athena. Leveraging our relationship acquisition and management process (RAMP), we honed in on the complex needs of their market while providing a proven process that brought success to other EMS companies. Laser-focused on medical devices and industrial control applications, our program included:
A highly targeted, custom-built list of validated decision-maker prospects
A synchronous tough process across digital, print, and direct communications
Education and awareness-building in target markets regarding AccuSpec value-adds
The results: The program was an immediate success, landing a key prospect on its first day and successfully adding opportunities into AccuSpec's pipeline with an expected annualized value of more than $5 million in just three months. This was just the start, however — read the full success story here to learn how our structured front-end sales approach helped AccuSpec achieve its goals.
A Growing EMS Company
Our client is an EMS company that designs, manufactures, and tests complex, custom electronic components and assemblies, including PCBAs, precision metalworking, and wire/cable harnesses. Facing stagnant growth for the past three years, the company launched an initiative to grow revenue in several markets by 12–15% year-over-year, increasing to 18% the following year. While the company had been using consistent sales and marketing tools and outreach, it lacked a front-end sales model to monitor progress on its goals. Additional challenges included:
A heavy focus on managing current accounts with little time for new customers
The lack of a system and process to track and measure sales progress over time
Its sales team lacked the skills and accountability to acquire new accounts
Rather than spending time and resources building out these capabilities in-house, the EMS company decided to partner with an electronics marketing agency. After being approached by multiple firms, the CEO decided to partner with Athena thanks to our experience in EMS, market knowledge, and unique process model that focused on delivering high-quality leads. Here's how we tackled these challenges for our EMS client:
Built tailored marketing materials and a detailed, organized target prospect list
Marketing outreach to targets via multiple channels followed by direct contact
Initiated nurturing on targets that were interested but not ready to move forward
Consistent monitoring and reporting on program goals with built-in flexibility
The results: With our structured front-end sales approach, our EMS client was able to reduce its workload, improve productivity, and focus on growing its desired segments. Our team assisted in closing a $2 million-dollar deal with potential for $20 million in annual revenue. We also assisted in building out its active sales pipeline with an additional $1.5 million in opportunities. Learn more about the program and the many touch points our electronics marketing agency performed for our client.
Put Our Electronics Marketing Agency to the Test
If you've been facing any of the challenges listed here, or if you're experiencing other difficulties in achieving your growth goals, our team is ready to use our structured front-end model for your success. Get in touch with us today to get started.