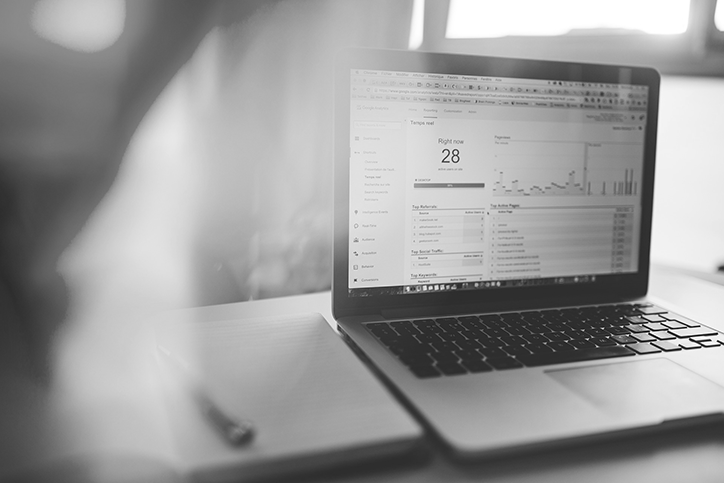 It is not a secret that buyers conduct self-directed online research and have short-listed their choice of vendors before ever speaking with a salesperson. This is why it is more important than ever to ensure you have a solid inbound marketing strategy so customers can find you—not only find you but be motivated to contact you. Inbound marketing should be combined with outbound marketing as part of your overall marketing strategy to see the greatest impact. Below we share strategies to increase website traffic and provide tips for increasing conversion rates.
Inbound and Outbound Marketing Explained
As you know, when referring to sales and marketing, we are talking about activities and processes that go into converting a sale. Sales and marketing activities can be further broken into inbound and outbound, which have been characterized as pull and push marketing, respectively.
Inbound marketing involves the activities and processes that pull prospects to you, usually through your website. It can be summed up as a process of attracting, nurturing, and converting leads. This is more passive as you are not reaching out directly to a specific person. You are targeting a persona, i.e., a semi-fictional representation of your target customer, with specific strategies to encourage people fitting this persona to contact you. Your inbound marketing strategy will include search engine optimization (SEO) of your website and content, social media, and tactics that help a prospect who needs corrugated products find your relevant content.
Outbound marketing includes activities and processes that push information to your prospects—phone calls, voicemails, emails, direct mail, etc. These are typically directed at specific individuals. Outbound marketing can be used in parallel with inbound (i.e., reaching out to individuals or companies that fit your target profile), but it also complements it. Once marketing leads come in through your website, you need outbound activities to convert them to sales-qualified leads and then to a sale. This article will not go into outbound marketing too deeply, other than to iterate the importance of following up with inbound leads. We have another post that covers following up with inbound leads to convert them.
Effective Inbound Marketing Increases Website Traffic
When done correctly and used as a component of an overall marketing strategy, inbound marketing is an effective method for increasing your lead flow. Inbound marketing reaches audiences interested in the types of products you sell.
There are several stages in a buyer's journey—awareness, consideration, and decision. As prospects search the internet for solutions (awareness), they are more likely to find you if you have implemented current best-practice inbound marketing strategies. This can be done with content on your site or off-site, for example, through social media. As they acquire more information from several vendors and learn what each offers (consideration), your content that explains your competitive advantage and addresses their pains can help lead them to a decision. Inbound marketing is used to reach prospects at each stage of the buyer's journey.
Elements of an Effective Inbound Marketing Strategy
It is important to note that inbound marketing is not a set-it-and-forget-it method for generating leads. The buyer's journey is evidence that a strong web presence is vital. However, building a flashy new website and walking away are not enough to keep a flow of relevant leads coming to your website. The following several ways buyers can land on your site must be considered when developing your strategy:
A direct search is when they enter your URL directly into the browser.
A referral is when they arrive at your site from a backlink, which is when another site, like a trade show page, links to your site.
An organic search is when they use a search engine, type in keywords (such as "cardboard boxes in Wisconsin"), and click on one of your webpages that appear in the results. Remember, people don't always know the correct terminology, and as painful as it might be, your content should use the terms people use in their searches.
Other types include social, pay-per-click (paid links), and email links.
Encouraging buyers to come to your site is achieved through SEO. This means optimizing your website and content for search engines, such as Google, to find your content, trust your content, and deliver it as a top result. This doesn't happen overnight and takes continual work.
As a side note, we talk about Google instead of some of the lesser search engines because Google has 83% of the global market, according to Statista. Google has begun prioritizing content quality related to search queries, so the changes made to your site based on its recommendations will likely enhance results on other search engines, such as Bing and Yahoo.
Updating Content Is Key
You first need a strong website, which includes being optimized for load speed, URL structure, site hierarchy, images, mobile use, and other technical factors. After that, the No. 1 element of a good SEO strategy is consistently updating your website content by following best practices for SEO. Updating content lets Google know the page is still relevant and helps it to rank higher on search engine results pages (SERPs).
A good exercise is to put your company name into a search engine and see where your company appears in the results. Then, enter the top four or five products or services you think people would search for when looking for a vendor like you. This will allow you to see how other companies are ranking and allow you to reverse-engineer it.
When a search engine crawls sites looking for information to answer a searcher's question, such as "corrugated manufacturer near me," it goes through a hierarchy of steps to find an answer. It will look at the core site and URL structure of that site. If the URL doesn't have the word "corrugated" in it, Google will stop looking. If it has "corrugated" in the URL, it will look at page headings, content, and pictures to ensure the content on the page is about corrugated.
Website Pages for Product, Services, and Locations Served
As your product or service offerings change (i.e., equipment, certifications, etc.), pages should be updated. Each product or service you want to be found through Google or other search engines should have its own page. Just mentioning it on your homepage is not enough for a search engine to deliver it as a search result. Your pages should contain information that people are looking for. If sustainability is something prospects want, have a page dedicated to sustainability.
An excellent way to determine the content and pages for your site is to look at the questions your salespeople get. Does your website answer those questions? Does each question have its own page? An FAQ page is good, but having a page that answers each question is better.
Pages for locations served are also important. When someone searches, Google's default is to search within their area. We are familiar with this for B2C searches. If you enter the term "steakhouse" into a Google search page, your top results will be steakhouses in your area. The same is true for B2B. Having a Google map on your website of the area you serve helps with search results.
There is no limit to the number of pages a site can have. You don't have to put them all up at once. At a minimum, your website should have four to six pages that cover core offerings and major areas served. You can then build on those, adding more as you learn what prospects are searching for. Single-page websites are not recommended for successful SEO.
Off-Site Strategies to Drive Website Traffic
Putting up blog posts around keywords (terms people search for) is a common strategy, but updating your off-site SEO, such as your Google Business Profile, is just as important. When people conduct a search using "near me" or put in a geographical location, having a listing helps you to be found. Updating social sites, such as LinkedIn, with links to your site can help your page to appear in a SERP and encourages people to click through to your site from the post.
Backlinks also can impact your SEO. In recent years, Google's algorithm has shifted from emphasizing backlinks to emphasizing relevant and informative content; however, they are still the foundation of Google's original PageRank algorithm. This is because if other sites are linking to your site, it establishes your site's authority. With this said, it is better to first concentrate on having a good website and content.
Increasing Conversion Rates
If you have ample traffic landing on your site but you are not getting the conversions you need (people contacting you), it is time for conversion rate optimization. This is achieved through the following content enhancements:
Ensure your site is user-friendly. Can users quickly get the information they need? Do you have appropriate links to other information available? Are links to case studies available that provide testimony that you can do what you say you can do?
Provide content that reflects what people are searching for and has a high readability level. Readability is how easy it is for someone to read and understand what is written on your website.
Have a clear call to action. Tell people what you want them to do.
Minimize form fields. Some people are turned off by having to fill out a long form. You can ask for additional information when you follow up with them.
Conduct A/B testing. This is where you create two versions to compare against each other to see which performs better.
Inbound Marketing Is an Ongoing Process
The most important thing to remember is that your inbound marketing strategy should be an ongoing process. Be consistent and patient with your SEO efforts. It takes time for pages to start ranking in Google searches. As you evaluate your site's performance data, you may find it necessary to make changes and reoptimize.
Need Help to Increase Website Traffic?
Implementing tactics to increase website traffic with the right prospects and converting them to sales can be over whelming. Talk to us about how we can provide a sales and marketing infrastructure that will increase website leads as well as proactively reach out the types of companies and accounts that are most beneficial for you.