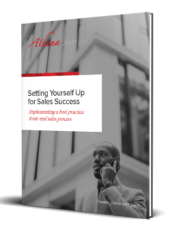 Setting Yourself Up for Sales Success
Most B2B markets are highly competitive, and growing your market share through new business development is critical to continued success. Of course, we've just stated the obvious. Companies understand the importance of new business development, but many businesses are struggling to effectively implement strategies that consistently lead to new sales. In fact, according to the American Association of Inside Sales Professionals (AA-ISP), lead quantity and quality continue to be the top challenge by a wide margin for both leaders and sales reps.
Fill out the form to access your copy.