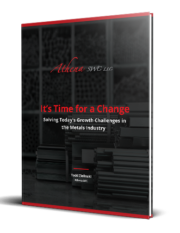 It's Time for a Change: Solving Today's Growth Challenges in the Metals Industry
With the metals industry experiencing significant change, the same strategies and approaches of the past won't help to move the needle going forward. This ebook provides several key recommendations for metals manufacturers that are ready to take the next step in the growth of their organization. Download your copy now to learn more about our proven approach and how you can put it to work for your business.
Fill out the form to access your copy.