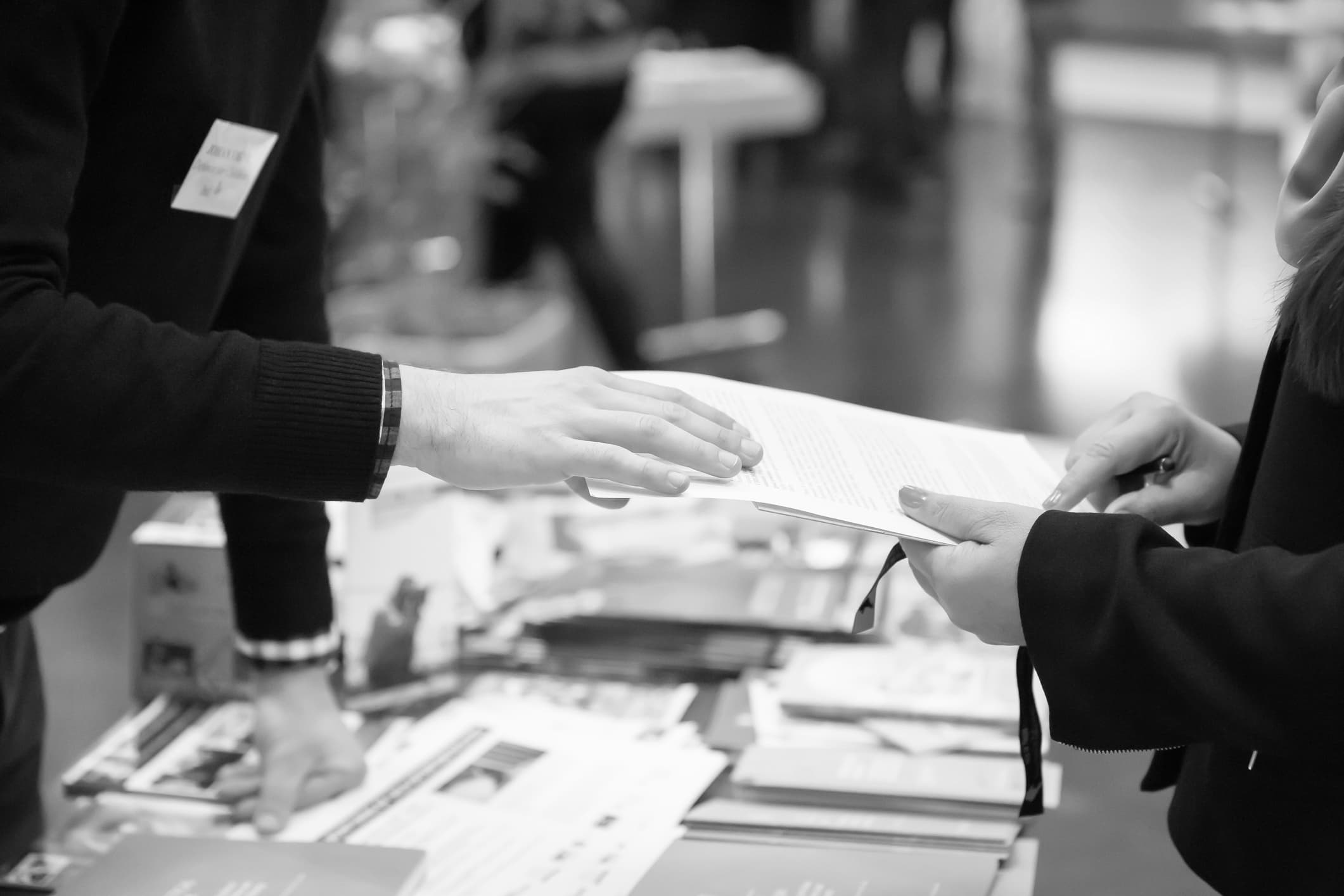 Maximize ROI with B2B Trade Show Marketing Best Practices and a New Communication Strategy
Trade shows, how we've missed you! The networking, the excitement, the face-to-face interactions—it is great to see trade shows happening again. For many companies, trade shows were their primary method for getting in front of prospects, so the return couldn't come soon enough. As exciting as in-person events are, B2B trade show marketing expenses can consume a big chunk of your budget.
Between the booth, displays, literature, giveaways, travel, hotels, expenses, entertaining, and the staff to run the booth, the costs can add up quickly. After all the challenges created by the COVID-19 pandemic, a B2B trade show marketing strategy that drives traffic and a positive return on investment (ROI) is even more critical. You can't rely on organizers to drive traffic to your booth. You need to take matters into your own hands.
B2B Trade Show Marketing Preparations
There is B2B trade show marketing work that must be started several months before the show. Just as you prepare your booth, literature, and travel arrangements well ahead of the trade show, you also need to start preparing to drive traffic to your booth.
Pre-Show List Building
Prepare a list of prospects that you are interested in speaking with. Create the list from your current database of customers that may have greater spend potential and dormant accounts that you would like to re-engage. Trade shows will often supply a list of attendees from previous years that can be used to build your list. If you have companies in mind that would be ideal to work with, do a little research to find contacts to add to your trade show outreach list.
Don't have the time to do it all yourself? With proven results generating qualified leads for manufacturers in industries including electronics, corrugated, metal, medical, plastic, technology, and thermal, start building long-term relationships in your industry and reaching your sales goals.
Your B2B Trade Show Marketing and Email Campaign
Prospects and customers won't know you are there unless you tell them. Email campaigns are a great, inexpensive B2B Trade Show Marketing tool to implement. Include a relevant, eye-catching headline, the event's name, the dates, place, your booth number, and why they should visit you. Many of your competitors will be there; tell visitors why they should stop by your booth. If you have a new piece of equipment or a new service, promote it. If not, consider having a show special—an offer or discount that is hard to pass up.
If the show is large, include a map with your booth highlighted. If you are doing a presentation, provide the details but keep the summary short. Don't forget to include your contact information and a link to sign up for the show. Some shows provide vendor codes to give out for free admission. If you are doing this, don't forget to include it. Some shows also provide pre-formatted emails. Use them if you must; however, you risk looking like everyone else and getting lost in inboxes.
Kickstart your B2B trade show marketing strategy by sending out several emails leading up to the show. Put the information on your website. Push it out through social media channels several times leading up to the show and while you are at the show—this can be scheduled through an app or software ahead of time. Tag the show in your social posts or use the show's hashtags, so followers will know you are there. Targeted social media ads can help you reach a particular audience and entice them to visit your booth.
Don't let your communications strategy end there, continuing to nurture your relationships will pay off in the long run. From reaching out weekly, or quarterly, use a calendar and relationship-building strategies to help keep the momentum you built going. You may want to send out postcards to your top prospects. It can be expensive, but since direct mail is used so much less than it used to be, your postcard may stand out more than electronic communications, which sometimes can become white noise.
Make the most out of your next trade show with custom solutions from B2B lead generation experts.
Set Up Meetings Before the Show
It is great to go into the show knowing you have meetings scheduled. If you have a large enough booth to section off a private meeting area or the show offers areas for meetings, take advantage of those by scheduling as many meetings as possible. For your top prospects, calling and personally inviting them to meet with you can be effective. You can also send them a personal email. Usually, people won't schedule more than a week or two in advance, so keep that in mind.
Attracting Leads During the Trade Show
You've created a booth with great graphics, but that doesn't mean your B2B trade show marketing strategy ends there. It should be clear to visitors who your staffers are, especially if there are many visitors to the booth. For big shows, you might want to have an employee act as a host or hostess to greet people, scan badges or collect business cards, and get visitors a beverage or otherwise acknowledge them until a sales staff member can speak with them. You don't want to lose an opportunity because everyone was busy.
Make a note of what you discussed and any other relevant information you might need to refer back to. This will be critical when you or another member of the team is following up after the show. If the contact doesn't have an immediate need, try to get a time frame for when you should reach back out.
Be careful about doing pricey fishbowl drawings or giving away swag to lure people to your booth. You will end up with a lot of useless contacts that don't fit your target audience. If you are giving away branded gifts, consider keeping them under the table and handing them out personally to people you speak with.
Post-Show Follow-Up
After the show, take the next step in your B2B trade show marketing strategy by categorizing your leads into immediate needs, near-future needs, and no immediate needs. Immediate needs are actively looking for corrugated packaging, and you should establish a follow-up plan during the show. If not, contact them as soon as possible to set up another meeting, obtain an RFQ, or close the deal.
Send a thank-you email to everyone who visited your booth. Those who scheduled meetings and those with strong potential for sales should be sent a more personal email that references the conversation you had. For those who didn't attend or visit your booth, send a "We missed you" email and invite them to contact you with any needs they might have.
For the near-future-need prospects, plan to call them at the agreed-upon time. You should also set up an email campaign to nurture the near-future and no-immediate-need leads. A nurture email campaign comprises emails with educational information, industry news, or other areas of interest to your prospects, sent out in a specific time frame—every two weeks or once a month, for example. Avoid sending exclusively promotional emails. The idea is to be seen as an industry expert and be top of mind when a packaging need arises.
However, don't let your B2B trade show marketing strategy dry up. Plan on calling leads periodically to check in with them. If they gave you a time frame for when they might have a need—remember, you asked for one during the show—put it on your calendar so you don't forget. When they do have a need, you want your company name to be first to mind.
Need a guiding hand? We have the trade show experience and right strategy blend to help you accelerate the marketing and lead generation process.