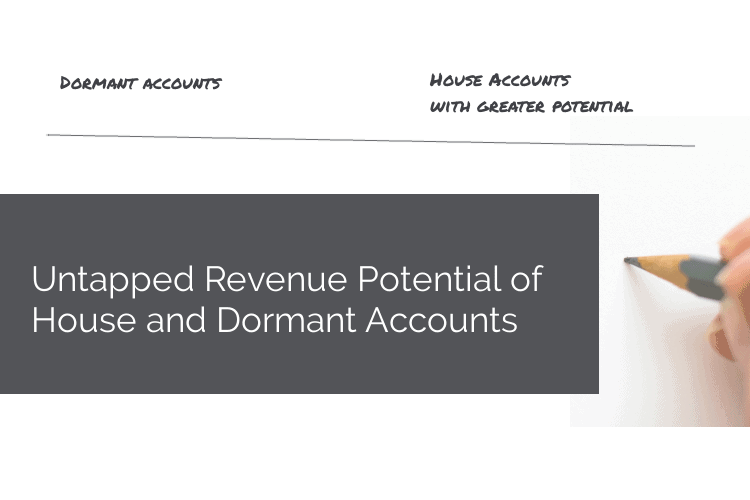 Packaging, like many others, is a competitive industry, and manufacturers allocate a large chunk of resources toward trying to capture the next new account. However, many fail to see the potential revenue that is sitting in their current database of house and dormant accounts. Various research shows that acquiring new customers can cost from five to seven times more than retaining current customers, yet the majority of companies are putting most of their resources into new business acquisition as opposed to customer retention. Creating sustainable processes and activities around dormant and low-spend, high-potential house accounts will allow you to uncover untapped revenue.
Waking Dormant Accounts
Dormant accounts—those customers who have bought from you in the past but have been silent for several years—are often thought of as not having much value. There are many reasons why a customer might have gone dark on you: Your contact may no longer be with the company; its product line may have changed; or maybe the customer isn't aware of your full line of products and services. So, don't make the mistake of assuming, based solely on the fact that an account has become dormant, that a customer no longer needs your products and services. Reactivating dormant accounts is one of the quickest ways to increase your revenue stream.
Evaluating Low-Spend House Accounts
When you acquire a new account, you should have some understanding of what the company's annual spending. It is a good idea to go back and look at some of your low-spend accounts for which there was an expectation of higher sales. A low-spending customer might be spending more with your competitor. If a company spends $250,000 annually in corrugated but you are only seeing $10,000 in sales, there is a big opportunity to increase sales by learning more about its needs. If the customer is dual-sourced, this is an opportunity to move into the primary supplier slot.
However, to move into the primary supplier position, it is important to build the relationship by spending face time with the customer. This gives you an opportunity to better understand that customer's business and needs and allows you to find areas where there might be a gap for which you can offer assistance.
Creating a Structured Approach
Once you have a list of dormant and low-spend, high-potential house accounts, you need to create a structured approach to reigniting or expanding your relationship with the accounts. The best way to approach it is with an old-fashioned phone call. Because the first calls will be fact-finding, it might be better to have an entry-level customer service representative make those calls instead of your sales team. These customers have a relationship with you, so the call won't be as challenging as making a cold call. To make it easier, create a natural-sounding script for the customer service rep and practice a few times.
For dormant accounts, call to verify that your contact information is correct and update your database. Once you have your contacts—dormant and house— there are three items you will want to address on the call:
Ask about their relationship with your company. Have they or did they experience any issues that you can address? Document all feedback you receive. Any issues that are disclosed should be elevated immediately for corrective action. We have seen customers saved by addressing an issue that the company had not been aware of.
Ask whether they have any projects coming up for which you can be of service. If the company has used only one product or service but you have others, make sure it is aware of what you can offer. Consider multiple locations as well—you might need to ask for additional contacts depending on how its purchasing structure is set up. If it does have an upcoming project, this information should be elevated to a salesperson for immediate follow-up. It is ideal if the customer service rep can set up a meeting between the customer and the salesperson during the call.
Ask what their total annual spending is, and document the response. If there is no additional revenue potential, you can put this company aside. However, if the spending exceeds your current sales, this information should be elevated to the salesperson.
The process needs to be done consistently, and those customers without an immediate need should be in a nurturing program to keep your company's name and products or services in front of them as they move through the sales funnel. A nurturing program consists of regularly scheduled emails that deliver relevant and useful content, build awareness of your products and services, and work to build trust. The emails may include an incentive. People love incentives, so consider offering an enticement to increase the amount of business they are currently doing with you, or to bring their business back to your company. Also, if a customer tells you it doesn't currently have a project but might in the future, find out when the best time to follow up will be, and then be sure to actually follow up at that time. In the meantime, the customer will be getting regular nurture emails from you.
Tracking and measuring the results of this process are important steps as a means of gauging your success, keeping the process on track, and providing the data you need to find areas for improvement and making corrections. This can be done in your customer relationship management or sales pipeline management tool. Equally important are monthly reviews with the customer service and sales team regarding activity, goals, and results.
Re-engaging dormant customers and tapping into the additional needs of house accounts can deliver significant revenue gains. However, it is essential that the process is viewed as an ongoing strategic tool and not a one-time activity.